A picture is worth a thousand words. Mr Hardy uses anatomical plastic models in clinic and for patients, trainees, colleagues and staff interested in the more common conditions.
Mr Hardy uses video clips of procedures he has carried out in the past to illustrate the aetiology and cure of common conditions.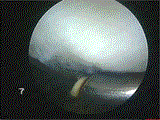 The video clip on the right is of a keyhole procedure on the knee. In this video Mr Hardy is smoothing the delicate surface of a knee cap in a patient with pain and creaking when getting out of a chair or climbing or descending stairs.