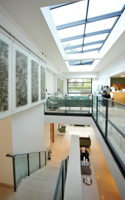 Chelsea Outpatient Centre is the newest Private Clinic in London. It is a modern, contemporary private diagnostic and treatment facility based at 280 Kings Road in the heart of Chelsea.
This state of the art Centre houses the latest MRI scanner, digital mammography machine, x-ray and ultrasound facilities, which assist consultants in making an accurate diagnosis and allow patients to begin their treatment as fast as possible.
Please telephone Mr Hardy's secretary, Lucy Ryan, for an appointment or the Appointments Line at the Chelsea Outpatient Centre below...
Chelsea Outpatient Centre
280 Kings Road
London SW3 5AW
Lucy Ryan: +44 (0)117 317 1793
Email: Lucy.Ryan@SOC-Bristol.co.uk
Appointments: +44 (0)207 730 8298
Switchboard:+44 (0)207 881 4114
Fax:+44 (0)1179738678
Developed through The Lister Hospital Mr Hardy is one of the founding Consultants of the Chelsea Outpatient Centre and has admitting privileges at The Lister Hospital, providing patients with quick, convenient access to world-class English private healthcare.
Park just around the corner at Sidney Street Car Park and take advantage of the shopping on the Kings Road after your appointment.